Wanted to continue to work with gesso on white silk, but find a bolder line. So I started with the same basic image, but this time used permanent ink over the gesso.
Am continuing to enjoy seeing the wintry trees without their leaves: such different growth patterns. And - bonus - the nests are visible! I saw this one in the city last weekend. A delight to see a handcrafted, recyclable :) shelter, in the midst of ugly commercial buildings.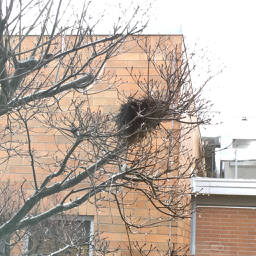 The birds make nests
hoping for eggs.
So, I added an oversized nest. The birds make nests hoping for eggs. I made a nest hoping for a healthy future.
Silk, gesso, pen, scraps, free-motion stitching.
Click here to follow my studio progress!